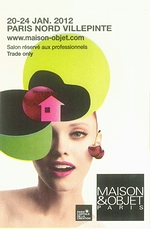 "MAISON&OBJET2012" has finally begun in Paris.
We display our "Tile+Light" there, following the trade fair in Düsseldorf last year.
The session will last for 5 days, from January 20th to 24th. This is our first opportunity to display products in France.
"MAISON&OBJET" is one of the greatest trade fairs for the interior in the world. It is held in Paris, France.
With cooperation of Japan External Trade Organization(JETRO), 57 Japanese companies/organizations participate in this. And 14 of them also join "J STYLE+", an exhibition held by JETRO in this traid fair. Tile+Light was selected for it.
"J STYLE+" is an exhibition especially on Japanese living wares(Interior goods, commodities, furniture, and so on) showing superiority in their designs and functionality. SMEs selected by the nomination committee take part in it.
Tile+Light is the first-in-the-world tile with embedded LED

An innovative product which develops the possibility of designing walls with 4 kinds of tiles.
Combinated "Tile+Light" in the exhibition booth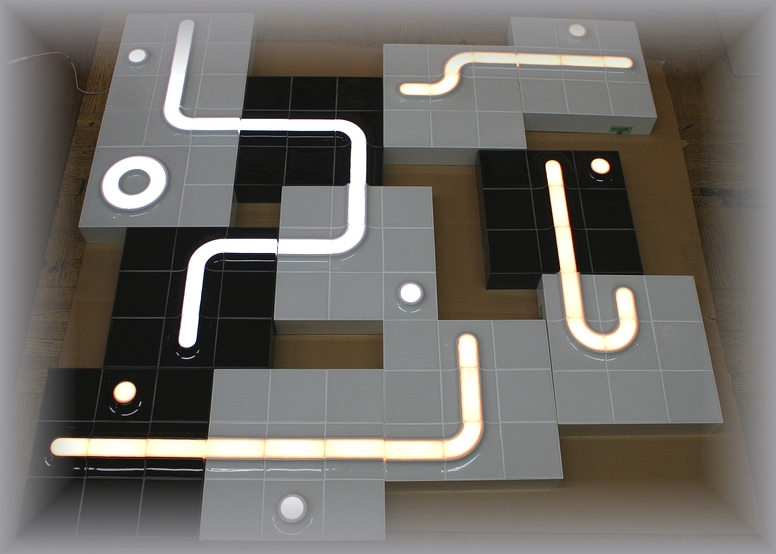 Since it was introduced on Web and in the fair in New York last year, there has been many inquiries about Tile+Light. We will start full-scale sales of it, gaining a foothold in "MAISON&OBJET".
There are 2 colors for tile; glossy white and black, and 2 colors for LED; Cool white and Warm white. We're also planning to make subtler improvement and increase the variety of its colors on the basis of customer feedback.
Please be on the look out for the future development!
We made samples of Tile+Light within booklike boxes for customers.
When you take out the sample, you can use it as a simple illumination with an acrylic case.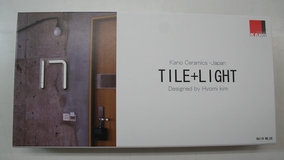 30 samples are distributed for free only at "J STYLE+", but usually we charge for delivery of them.
Price¥12,000(tax included, without carriage)
Samples within booklike boxes are limited items, so as soon as they're sold out we start sales of samples with acrylic cases.
(The photo placed below is of a Cool white LED, but we also have Warm white samples.)

Can be got from our Rakuten online shop too!